GST Result 2020-21 by gstadmission ac bd. The Website (www.gstadmission.ac.bd) is About 20 Universities Integrated Admission System For 2020-21 Session. This Website is build to aim you Assist About Integrated Admission System 2020-21. Here you Will Get all Information Regarding 20 Universities Admission Circular, Education Requirement, Application Instruction, Payment Instruction and Combined University Admission Result. Stay With us Till The Authority Announce Details and Circular For Academic Session 2020-21. Note: Every Information We Collect From Official Website gstadmission org and others Education news and Blog site. Check GST Result 2021 Published Date here.
Welcome to today's discussion about GST university admission 2020-2021 where we will be revealing all the necessary information regarding the combined admission process of the universities, 20 to be specific. All these universities have agreed to undergo a common admission test in a cluster system.
Preliminary Application ০১-০৪-২০২১ থেকে সরকার ঘোষিত চলমান লকডাউন শেষ হওয়ার পরবর্তী ১০ দিন পর্যন্ত চলবে।
GST Admission 2020-2021
To get this done, the admission test will be held in 3 clusters, one for each type of university. From the circular highlights to the application process and payment, everything will be put on stage. So, book your seat and start watching us present you with crucial information about GST university admission 2020-2021.
  Combined CUET, KUET & RUET Admission
To ease the struggle of students and guardians during the admission season, the most prominent public universities of Bangladesh have decided to cancel the necessity for distinct exams for each university. Now, students can apply for all the universities at once and take the admission to be eligible to each of the universities listed.
This opens the door even further for the students who are meritorious but don't have the financial solvency to apply and go to each university separately. Let's take a look at the admission circular for GST universities.
GST Admission Important Date:
Primary Application Start: 1st April 2021
Primary Application End: 15th April 2021
Eligible Candidates List Publish: 23 April 2021
Final Application Start: 24th April 2021
Final Application end: 20th May 2021
Admit Card Download: 1st June to 10th June 2021
Now, See The details prospectus and Circular before application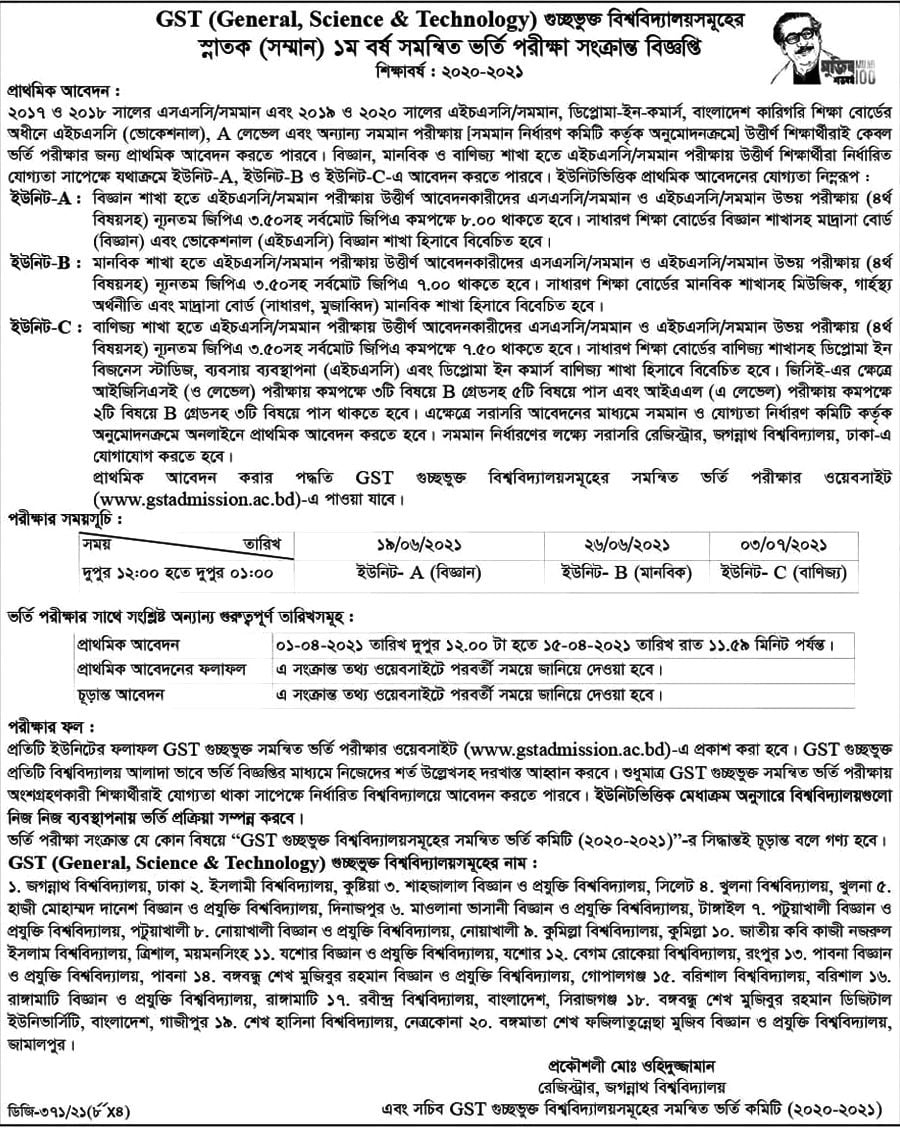 Education Requirement for GST Admission Apply
Not Every Students Can Apply For Admission Primary Application. They have to Fulfill Few Requirement Which Will meet to the eligibility to Apply. Only this year second Time Students can Apply for 20 integrated Admission system. However, we Provide you each unit and Group GPA Requirement at below.
Humanities Group (A Unit): A Total 6.00 GPA Will need to apply where Minimum 3.00 Will be For Each Board Examination of SSC and HSC
Business Group (B Unit): A Total 6.50 GPA Will need to apply where Minimum 3.00 Will be For Each Board Examination of SSC and HSC
Science Group (C Unit): A Total 7.00 GPA Will need to apply where Minimum 3.00 Will be For Each Board Examination of SSC and HSC
GST Universities Admission Circular 2020-21

As the universities have agreed to publish a common circular for GST admission, it should be live any time from now. The HSC result was delayed due to the current coronavirus situation and so was the GST admission circular.
But as the HSC result has been published recently, it is now a matter of time for the circular to be published. Once it gets published, we will give you the latest updates right here. For now, let's take a closer look at the highlights of the GST universities admission circular.
How To Apply Online Application?
Applying online for GST universities will be much easier than the previous system of applying separately for each university as the UI of every website isn't the same. In GST admission, a common platform will be made to ease the application process.
Here is a detailed overview of the application process you might need to follow. But remember, it might vary from the actual scenario, so it will be best until the GST admission circular gets published. Once the circular is published, we will update you with the specific application process promptly.
Here are the steps you might need to follow while applying for GST university admission.
        Go to the official website of GST admission or other websites as directed in the circular.
        Click on the Apply button to start your application.
        You will need to fill up all the required information correctly to be eligible for the admission test.
        Upload your image and signature as directed.
        If everything is correct, click on the submit button.
        You will get an application preview along with the photograph and signature. Download and save it for further use.
How To Pay Application Fee: Payment Instruction
Once you have submitted the online application, you need to pay the application fee within 72 hours otherwise your application will be invalid. Paying the application fee isn't a big deal, too. You will need a Teletalk pre-paid mobile number to pay the fee.
Recharge your account with enough amount and refer to the following image to get the payment instructions. By following these steps, you can easily pay the application fee and complete your online application process from the comfort of your home.
GST Admission Admit Card Download
After the application deadline, all the applications will be scrutinized and only the eligible applicants will be given the admit card to take the admission test. To download the admit card, you will again need to log into the previously mentioned website with your credentials.
Once the admission card is open to download, you can download your admit card with a few clicks. Make a color print of the downloaded copy of the admit card and carry it with you to the exam hall as no applicants will be allowed to take the admission test without the printed copy of the admit card.
20 Universities Admission Test Date
As the circular for GST universities admission isn't published yet, there is no confirmation about the exam schedule to date. But as soon as the circular gets published, we will update you with all the latest information about the exam schedule and venue right here.
GST Universities Admission Result
Once the admission test is complete, candidates will be evaluated according to a combined score comprised of their admission test score and GPA score of SSC and HSC exams. A merit list will be prepared and published afterward on the official website.
Click here for the GST Universities admission result.
Admission Process: How The Admission Process Will Complete?
There will be five admission tests for the GST admission. Three tests will be held for general public universities, once each for science, business studies, and humanities group. One distinct exam will be held for engineering universities and another will be held for agricultural universities.
Candidates need to answer 100 MCQ on different subjects based on their HSC syllabus. ICT will be compulsory for each group. Candidates can choose some other subjects to either answer or not from the list.
Once the merit list is published, universities will individually decide the minimum score for admission and can vary from one university to another. Other eligibility criteria like the HSC year or combine score of SSC and HSC will also be decided by the universities, not the GST admission committee.
Final Verdict
One last piece of advice for the GST universities admission 2020-2021. As the maximum number of students has passed in the HSC this year, the competition will be tougher than any other year. So, prepare yourself for the upcoming battle by sharpening your skills in all the subjects required for the admission test. Don't forget to follow us for all the latest updates.